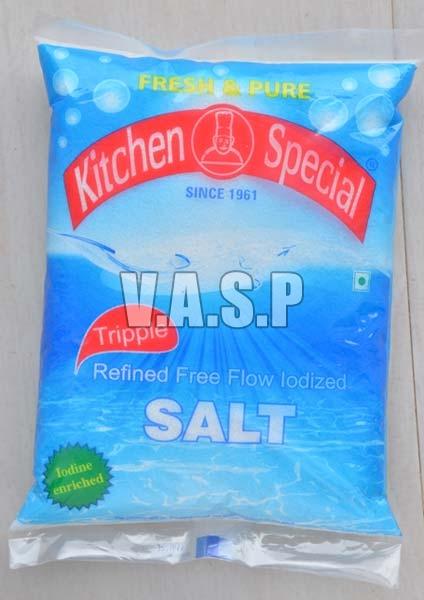 Iodine serves as the essential micronutrient required for the synthesis of thyroxine and
tri-iodothyronine hormones. Inadequate iodine intake can lead to the insufficient production of these hormones which can have adverse effects on the functioning of muscles and organs. Hence, it becomes very important to take proper amounts of iodine. Iodine deficiency can also have damaging effects on the heart, kidney, liver and the functioning of the brain.
What Is Iodized Salt?
During the production of the iodized salt, predetermined amounts of iodine is mixed to produce a homogeneous mixture. There are three methods to achieve this, which are spraying, dry-mixing and treatment of brine. The chosen method is dependent on factors including the quantity and type of the salt. Spraying is the method that is utilized in large scale production as it is less expensive than the dry-mixing process. Here are some reasons that necessitate the intake of Iodized Salt.
Effects Of Iodine Deficiency
It is seen as the major cause of mental retardation which can be really damaging in the early stages of pregnancy and for growing children. Children with iodine deficiency have weak immunity system and their brain also doesn't work properly.
Iodine Deficiency in pregnant women can cause stillbirth, miscarriage, infant mortality and cretinism. It also has damaging effects on the mental and physical growth of the infants leading to mental retardation, short stature, deafness, muteness and other physical and mental defects.
Goitre is another prominent sign of Iodine Deficiency. It leads to low production of thyroid hormones as to compared thyroid-stimulating hormone secreted from the to the pituitary gland in turn resulting in an unnatural growth of the thyroid. Goitre can lead to other problems too such as discomfort, restriction of head movement and obstructed breathing.
V.A.S. Palappa Nadar Sons is a leading Industrial Salt Manufacturer based in Tamil Nadu, India. It is also engaged in the processing and exporting of products such as Raw Sea Salt, Iodized Refined Salt, Refined Salt, Table Salt, Free Flow Salt, Sea Salt, Edible Salt, and many more. The products are manufactured in the most hygienic conditions and are offered in reliable and quality packaging. To know more about it, log on to http://www.vaspsalt.com/.


This entry was posted on February, 25, 2014 at 10 : 28 am and is filed under Iodized Salt. You can follow any responses to this entry through the RSS 2.0 feed. You can leave a response from your own site.