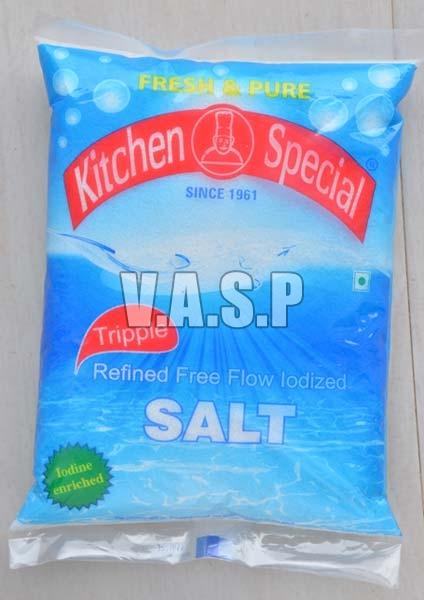 Iodized Refined Salt Suppliers offer the best quality iodized salt in the market. They bring in the refined iodized salt that is par excellent in industry standards. The leading suppliers procure raw salt that is 100 percent natural and best in purity. They are hugely in demand for their salt supply. The salt is enriched with Iodine that is essential to avoid iodine deficiency in humans, which can lead to potential diseases such as goiter. Iodine is essential for good mental and physical growth and is highly suggested for us.

Features of Iodized Refined Salt
Superb in quality
Good in taste
Fresh
Pure
Natural
High nutritional content
Iodine enriched
Longer shelf life
The suppliers have managed to carve a niche for themselves in 59 years in trading, processing and supplying. The nutrients are embedded in salt after appropriate refining. Thus it is ideal for consumptions by human as well as animals. Iodine and Iron along with other nutrients are engaged within the supply of iodized refined salt, which aids in guarding us from deficiencies. Salt is a vital component of our daily food, and this salt shall complete the regular diet as it is refined according to the standards of food safety.

The packaging of the salt supply comes in the following quantities:
1 kg pouches
200 g
400g
250g
907g
500 g
The salt suppliers bring forth the best supply of salt that is enriched with iodine and high in nutrition. They are checked for quality at each and every step of processing. The salt comes with a long life of shelving. The product is dispatched for packaging after thorough checking on various parameters. After this, the packaging is done in a material that is food grade and free of moisture. The suppliers are backed up by an infrastructure that enables them to meet up with bulk and emergency orders that are placed by diverse clients.

Iodized Refined Salt Suppliers follow the following nutritional percentages in their salt supply:
Sodium Chloride is in 99.0 %
Calcium is in 0.12%
Magnesium is in 0.05%
Insoluble matter is in 0.2%
Moisture component is in 0.25%
Iodine comes in30 ppm
The suppliers bring forth the product size that comes below 850. The product can be availed from the suppliers at a very nominal price which is delivered to the concerned location right on time.
This entry was posted on April, 24, 2015 at 16 : 46 pm and is filed under Iodized Salt. You can follow any responses to this entry through the RSS 2.0 feed. You can leave a response from your own site.