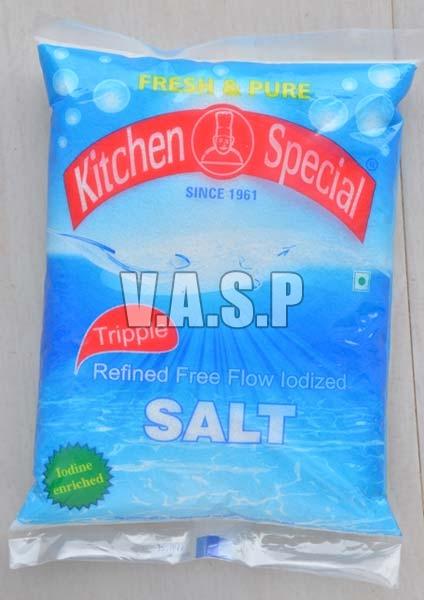 Iodized Salt is a type of salt which comprises of Sodium, Chloride and Iodine. Iodine is added because of its various health-promoting benefits. Iodine helps in enhancing the functioning of thyroid glands, removing toxic chemicals, maintaining optimum energy level, formation of healthy skin and hair, etc. Iodine forms a very basic element of our diet and if not consumed in required quantity, it can lead to various disorders.
Some Of The Diseases Caused By Iodine Deficiency Are As Follows:-
Goiter- This disease is caused by the inability of thyroid glands to produce hormones which are essential for the proper functioning of the body. It leads to the enlargement of thyroid glands.
Mental Retardation- Iodine deficiency can also lead to mental retardation. Insufficient consumption of Iodine leads to a decline in the learning capacity of an individual thus limits the intellectual development.
Others- Iodine Deficiency can affect the development of child inside the womb of the mother. It can lead to abortion, still births, etc.
There are various sources of Iodine like sea food, iodine supplements but the best way to prevent Iodine Deficiency is to consume Iodized Salt. Iodized Salt consumption is the simplest and the best way to prevent Iodine Deficiency.
Reasons Why Iodized Salt Is Preferred To Prevent Iodine Deficiency Are:-
It is easily available.
It is less expensive when compared with Iodine Supplements.
The consumption of Iodized Salt is safe as Iodine Supplements in the market may have some side effects.
Iodized Salt not only prevents Iodine Deficiency but it also helps in enhancing the mental faculties of an individual.
There are many Iodized Salt Manufacturers but you can buy the best quality Iodized Salt from V.A.S. Palappa Nadar Sons (http://www.vaspsalt.com/). They are a prominent Manufacturer and Exporter of all kinds of salt ranging from Raw Salt to Iodized salt.
This entry was posted on August, 27, 2012 at 18 : 17 pm and is filed under Iodized Salt. You can follow any responses to this entry through the RSS 2.0 feed. You can leave a response from your own site.