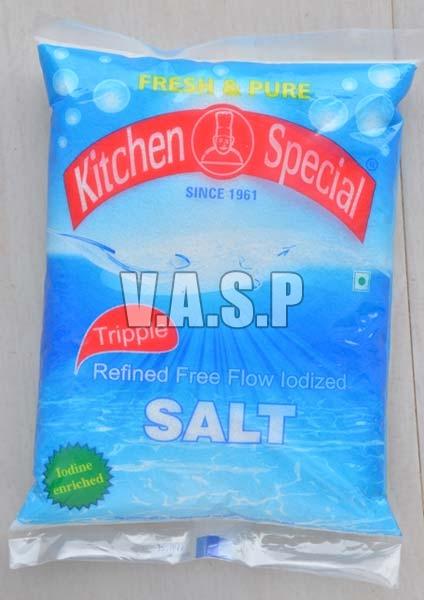 The amount of sodium chloride in the finally processed salt defines its purity. The table salt that most of us use is refined salt. Raw Salt is processed under controlled conditions to obtain refined salt with minimal impurities. All table salt is actually Refined Salt. It is either obtained from sea water or found in salt mines.
Other than for food seasoning, Refined salt is used in many industrial applications & plays a important role in industries like textile, paper and pulp manufacturing, detergents & soaps production, etc. Owing to its universal demand, both as food grade salt and for industrial processes, Refined Salt has great commercial value.
Refined Salt Manufacturers by producing Iodized Refined Salt play a crucial role in the universal crusade against Iodine Deficiency. Iodine deficiency may lead to swollen thyroid glands and weight gain. To enable the functioning of the thyroid gland, human body requires Iodine. For this, either Potassium Iodine is sprayed on the salt before it is packaged or sometimes Iodine is added as a dry ingredient and mixed with the refined salt.
One of the prominent Iodized Refined Table Salt Manufacturers In India is V.A.S. Palappa Nadar Sons. The company is engaged in producing highly pure Refined and Iodized Salt. The company has consistently maintained high standard of quality. Through their sound knowledge of the production process and their dedication to provide quality products to their clients, they have successfully been supplying Salt for more than 50 years. Visit http://www.vaspsalt.com/ and view the range of products the company offers.
This entry was posted on August, 30, 2012 at 10 : 13 am and is filed under Iodized Salt. You can follow any responses to this entry through the RSS 2.0 feed. You can leave a response from your own site.