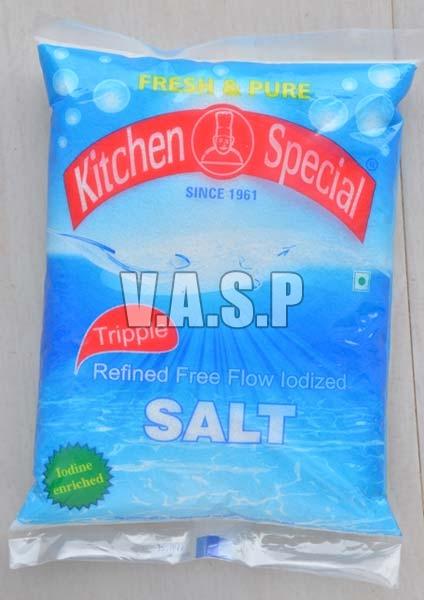 Salt also known as common salt is an essential element of human life. Salt is one of the most important seasonings present in each and every dish. Salt is basically composed of sodium chloride (NaCl). Salt is one of the cheapest food seasonings. Edible salt is sold in two forms i.e. sea salt and table salt. Table salt usually consists of an anti-caking agent and it may be further iodized to prevent iodine deficiency. When this salt is iodized, it is known as refined iodized salt.
Apart from being used as a seasoning in various cuisines, salt is also known for the following uses-
■ Remove odors from hands
■ Helps in cleaning teeth
■ Treats mosquito bites
■ Helps in keeping cut flowers fresh
■ Cleans sink drains
■ Salt added to water makes the water boil at high temperature
■ Eggs boiled in salted water peel more easily
■ Sweetening containers
■ Helps in brightening cutting boards
■ Prevents food from sticking
■ Helps in removing blood stains
IODIZED REFINED SALT
Iodised salt is a table salt, which contains the elements of iodine. Iodine deficiency is increasing worldwide. Thus, to cheaply address the problem, little amount of iodine is added to the refined iodised salt. This deficiency causes thyroid including goiter. Iodine is a micronutrient and dietary mineral that is naturally present in the food supply in many regions. But in regions where it is not available, iodized salt seems to be the best alternative. It helps to cure and prevent many diseases. Its taste is same as the normal table salt available in the market. So the taste of the dishes is not compromised.
BENEFITS OF USING IODIZED SALT
● IMPROVED THYROID FUNCTION: Consumption of iodine helps in curing thyroid.
● IMPROVED BRAIN FUNCTION: Iodised salt can improve the functions of the brain, such as memory, concentration and the ability to learn.
● HEALTHY PREGNANCIES: Iodised Salt help to prevent miscarriages and stillbirths.
● FIGHTS DEPRESSION: Depression and feelings of anxiety and frustration may be the result if an iodine deficiency so this iodized salt helps to fight depression.
● WEIGHT CONTROL: Consumption of iodised salt helps to keep weight under control.
● IMPROVED APPEARANCE: It can help to cure dry and flaky skin.
● REMOVES TOXINS: Iodized salt can help to remove harmful metals such as lead and mercury as well as other harmful toxins from your body.
● FIGHTS CANCER: Iodine deficiency can lead to the development of various types of cancers like breast, ovary, lung and prostate cancers. Thus consumption of iodised salt helps to fight it.
● HEART HEALTH: Iodized salt can help to create hormones which regulate the heart rate and blood pressure.
Suggestions for the suppliers of iodized refined salt
● Suppliers must ensure timely delivery of salt so as they reach all levels at the correct time
● They must procure it from the trusted manufacturers in the industry, who process it in the utmost hygienic environment under the strict surveillance of experienced food experts.
● Suppliers must use cost effective methods to process it.
Thus, we can conclude that the inclusion of iodized refined salt is highly beneficial for the overall health.