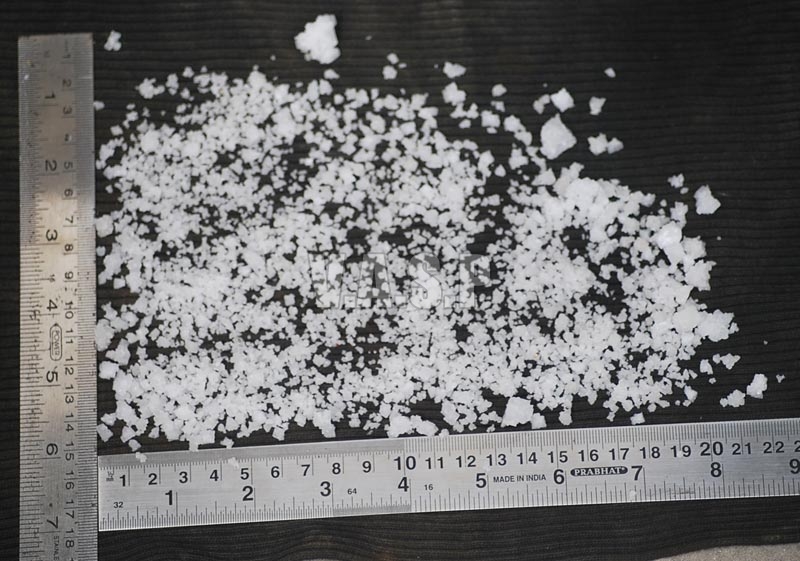 Sea Salt is obtained from sea water through the process of evaporation. To acquire the Sea Salt, seawater has to be evaporated under sunrays. As a result, water evaporates and the salt is left behind as residual. This is known as unrefined salt. Besides, there are two other types of Salt – Refined Salt and Regular Table Salt. Depending upon the location where it is collected, salt is available in many colors like pale, white, gray, sand color, etc. Sea Salt is then refined and used for a number of purposes. Salt has high commercial value and is used in a number of industrial applications all over the world.
Ingredients Of Salt:
Ninety eight percent of Sea Salt has substantial amount of sodium chloride and the rest two percent contains several essential minerals such as iron, calcium, iodine, magnesium, zinc, potassium, manganese and sulfur. Not only this, more than 80 trace minerals are found in Sea Salt.
Raw Salt does not contain any anti-caking ingredients, added iodine, sugar or any other unnatural ingredients as the Regular Table Salt i.e. Refined Salt does. Refined Salt too has some of the essential trace minerals and to keep it free from moisture, anti-caking agents are added to it. Apart from this, in Iodine which is good for our mental growth is added to refined sea salt.
The Sufficient Amount Of Salt For Human Body
The suggested intake is between 1500 to 2400 mg every day. This can be obtained from 1 tablespoon or slightly less. Heart attacks, high blood pressure and strokes are the result of taking the salt in excess amount. Therefore, to avoid the mentioned diseases, you should always intake salt in balanced amount.
Benefits Of Salt:
Salt should be added to your diet in sufficient amount because without this, your body will not work properly. It helps to control brain functions, fluid levels in body and muscle contractions. Consumption of salt in balanced amount helps to avoid problems related to kidney, strokes and cancer. Taking lots of dark green vegetables in your diet is the best way to obtain the salt content in a natural way.
The Extensive Industrial Applications Of Salt:
Apart from consumption, Salt is required in a number of industries for:
Manufacturing of pulp and paper
Setting dyes in fabrics
Production of detergents soaps and the likewise products
Salt is an essential part of our diet and it should be taken in a balanced amount. As well, whether to be used for consumption or for commercial purposes, salt should be purchased from reliable suppliers. There are several Salt Manufacturers in Tamil Nadu, make sure that you come across the genuine one.