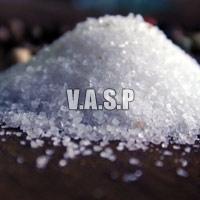 Salt is necessary for living organisms and is used universally for seasoning. Used for cooking, added to the manufactured foodstuffs, edible salt is often present on restaurant tables for individuals only to be sprinkled in food stuffs. It adds saltiness to the food which is one of the five basic sensations. Within the category of edible salt comes the table salt which is refined and comprise of 98-99% sodium chloride. Edible salt suppliers are primarily engaged in offering iodized refined salt, raw sea salt, free flow and table salt, cooking and edible salt at market leading prices. The salt manufacturers offer 100% natural and pure salt that not only enhances the taste of the food but also adds nutrients like iron and iodine to the food. They are sensitive about the health of the users and so there is no compromise that is made on quality of edible salt. Only moisture free, fresh pure salt, having proper nutritional content is offered. Some of the bulk salt requirements of leading restaurants and hotels are fulfilled by them.


Health packed natural sea salt at reasonable rates
The salt suppliers also make sea salt available to the users which carries essential nutrients and minerals. Such large crystals of sea salts add more flavour to the food while maintaining the health of the user at the same time. Body's electrolytes are well kept in balance with the edible salt.
The great need for sodium intake
Eliminating salt from one's diet is really unhealthy since minerals contained in the salt are an essential component for the effective functioning of the body. For biological processes, salt is necessary. Human body cannot exist at all without essential salt. Purest sea salt comprises of 80% minerals and essential elements that are essential to maintain the healthy electrolyte balance in the body. Such as ideal balance of electrolyte can bolster information transmission between nerve cells and brain that in turn influences blood pressure, heart rate, and muscular tension amid other functions.


In order to get best deals, bulk purchase of edible salt is necessary. Such edible salt when added to 1 glass of water can prevent dehydration. The iodine rich salt enables thyroid gland to make such hormones that are needed for effective functioning of body and for its normal growth and development. Early purchasers can get a heavy discount of every purchase of edible salt.
This entry was posted on August, 12, 2021 at 12 : 19 pm and is filed under Edible Salt. You can follow any responses to this entry through the RSS 2.0 feed. You can leave a response from your own site.