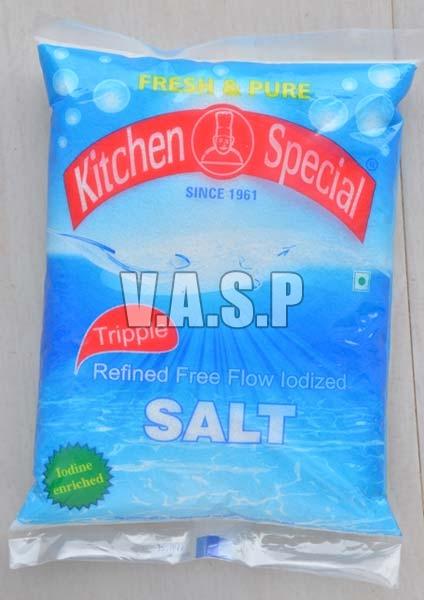 Salt is the essential ingredient that is consumed by people across the world. Salt is mainly two minerals, sodium and chloride. It is found in seawater and in mineral deposits within the earth, which are from ancient seas – therefore all salt is real "sea salt" at its origins. Salt is known to add flavor and taste to our food and drinks. But taste and flavor are not the only reasons for the presence of salt in our diet.
Why are salts essential?
To retain hydration
Salt controls blood sugar
Salt contributes to a healthy thyroid because of iodine
Salt serves as an antihistamine
Having a small amount of salt in water before going to bed helps you sleep more soundly.
Table salt is the most common type of salt that is available almost everywhere and is used massively in cooking applications. Table salt which is also known as iodized refined salt is mined from salt deposits on land and is then refined to add mineral like iodine and also to attain free-flowing texture. Iodised refined salt is fortified with iodine because iodine is a mineral that is used by the thyroid gland to produce thyroid hormones, the lacking of which can cause goiter. Even for pregnant ladies iodine requirement is high as iodine is an essential component that contributes to the growth of the baby. According to public health experts iodization of salt maybe the world's simplest and most cost-effective measures available to improve health and prevent goiter.
Refining of Salt
Salt can be refined to produce different versions such as pickling salt, rock salt, iodized salt and seasoned salt. The refining process of salt is carried out using chemicals like chloride or sulphuric acid. The chemical solution is heated optimally and then is added with an anti-caking agent and conditioning agents which drastically improve the shelf life of the salt. Along with this iodine is also added during the process of refining.
Why is Salt Refined?
1. Refined salt, is a purification process which makes it a lifeless product which assures a long shelf life.
2. If the salt is obtained from a polluted area, the refining process will eliminate the toxins associated with the salt.
4. Iodine is added to refined salt to prevent goiter (swelling of the thyroid).
As we find iodized refined salt (table salt) almost in every household, hotels, and restaurants. Regular supply of quality iodized refined salt becomes essential to fulfill the high demand. Thus, the role of salt suppliers in the market becomes very important. In order to be sensitive towards the health of people, iodized refined salt suppliers need to make sure that the salts do not lack behind in any aspect, be it quality, purity or proper nutritional content. They also make sure that the Salt has longer shelf life by packing it in moisture-less and food-grade packing materials.