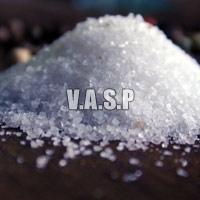 Edible Salt is a basic requirement of our body as it pushes water into the cells for their proper functioning. Thus, it reduces the scope of dehydration and is found in everybody's home. It adds taste to our food and is required to perform various functions in our body.
Some Of The Functions Are As Follows:-
It helps in maintaining and regulating the balance of fluids
It helps in the transmission of nerve impulses
It also aids in the contraction and relaxation of muscles
Edible Salt is a very essential part of our diet and is found in almost every source of food. There are many sources of Edible Salt such as:
Natural Sources- Edible Salt is found abundantly in almost all vegetables and dairy products like Milk, Meat, etc.
Processed and Prepared Sources- Edible Salt is found in processed food like frozen or canned vegetables, soups, pasta, pizza, etc.
The Intake Of Edible Salt differs according to the growth and development of the body. The quantity of Edible Salt consumption depends on the age of the person. For example –
1000mg is sufficient for the age group of 1 to 3 years
1200 mg for the age group of 4 to 8 years
1500 mg for the age group of 9 to 50 years
1300 mg for age group of 51 to 70
1200 mg for 70 years and above
The above stated consumption is necessary for proper functioning of our body. It should neither be less nor more as it can harm our body in various ways. Too much intake of Edible Salt can lead to various health problems. High Intake of Edible Salt can result in high blood pressure and problems ranging from Hyper tension to Muscle cramps. In severe cases, it can also cause Stomach cancer.
Conversely, less than the recommended intake can be problematic as well. Some of the ill effects of low intake of Edible Salt are as follows:-
V.A.S.Palappa Nadar Sons (http://www.vaspsalt.com/) is an acclaimed manufacturer which supplies Edible Salt under the name of Vasp Salt. They manufacture all kinds of salt ranging from Raw Salt and Refined Salt to Iodized Refined Salt using hi-tech machines with the guarantee of high quality and great taste.
This entry was posted on August, 27, 2012 at 18 : 15 pm and is filed under Edible Salt. You can follow any responses to this entry through the RSS 2.0 feed. You can leave a response from your own site.