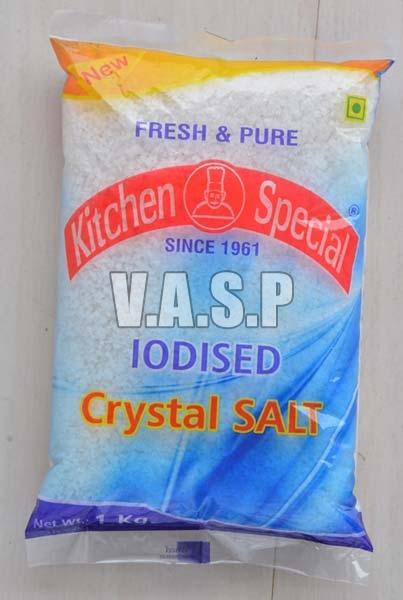 Overview: -
Popularly salt is used as a significant element for cooking and for preparing food with delicious taste. Known as Sodium Chloride in the scientific world, cooking salt is a mineral having a chemical formula of NaCl. Cooking salt is commonly extracted from the sea water where it is present in a large quantity. Cooking salt is considered as one of the most relevant ingredients in the human food. It brings the spicy and salty taste to the food. Traditionally cooking salt is made by the procedure of evaporating the sea water. Besides cooking, common salt is also used in the agricultural process. Cooking salt is made from the sodium chloride which is an essential ingredient of the human body. Cooking salt is present in all types of dishes like meats, vegetables, and fruit. It is mostly present in the salted food, pickled food, chips, and snacks food for the betterment of taste. Before the invention of the refrigerator the people used salt to keep their food preserved. Cooking salt is often used in the processing of cheese and butter products.
Common Uses of Cooking Salt: -
· Boiling water:
Add salt to the water to reduce cooking time by boiling it at high temperature
· Preventing Browning:
The salt can prevent the fruits and vegetables from becoming brown
· Crisping Salad:
Cooking Salt can be used for crisping of salad.
· Improving Boiled Potatoes:
Boiled potatoes can be improved by adding salt in it to get rid of excess moisture.
· Cleaning Greasy Pans:
Using some amount of salt can clean greasy pan easily.
Health Benefits:
From ancient times, cooking salt is known for adding great taste to the food. However, many of them is still unaware of the health benefits that it provides. Some of the health benefits of cooking salt is as follows:
· Cooking salt helps in regulating the blood sugar level, hence works as a boon for the diabetic patients.
· Iodine Present in the Cooking salt makes it a healthy thyroid.
· It helps to prevent the muscle cramps.
· Cooking salt also promotes the health of the respiratory system.
Cooking Salt Exporters and Conclusion:
Due to various benefits of cooking salt, it is demanded heavily all over the globe. Its high demand has ensured great revenues for its manufacturers and exporters. Cooking salt exporters must ensure that they source the cooking salt from the reliable vendors in the market. Quality Control standards must be established for cooking salt manufacturing so as to satisfy the needs of its consumers. Differential price policy can be adopted by the cooking salt exporters to boost their product in the market and become the market leader.