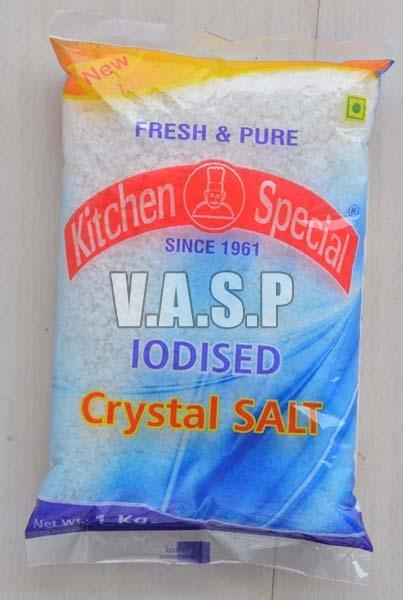 Necessary for cooking, seasoning, and baking, salt is the most important and versatile product to have stocked up in our kitchen. Since over the years, salt has been used to preserve food and to improve the taste of our dishes. Cooking salt is not only the basic taste receptor but also provide necessary nutrients needed to maintain the proper body function. Cooking salt is composed of sodium, an essential component of a healthy diet, helping the body to perform vital functions. It can help to enhance the flavors of our dishes, change the molecular structure of proteins and plant cells in order to improve the taste and textures of our food.

Benefits of cooking salt: -

• It helps us to stay hydrated.
• It helps in improving our sleep.
• It helps in balancing the electrolytes in the body and prevents muscle cramping.
• It supports a healthy nervous system.
• It is also used to as a binder, color controller, texturizer and fermentation control agent.

Different types of cooking salt are naturally sourced from either seawater that has been evaporated, or from rock deposits. The location and the way that the salt is processed affect the size, shape, and flavor. In recent years, a wide range of cooking salt offered to the home cooks, which is good news for us but can also be confusing on how to choose.

Table Salt
Popular as common salt, table salt is finely ground square-shaped crystals that are obtained from underground salt deposits and is vacuum evaporated. Table salt is the standard, all-purpose salt that may include anti-caking agents making it easy to pour. This salt is iodized, containing iodine that helps in preventing iodine deficiency, however, imparts a slightly chemical flavor.

Kosher Salt
This salt is flakier and coarser than table salt. The larger shape of the salt comes from raking during evaporation. The name of the salt is such, not because it is actually kosher, but due to its utilization during the koshering meat process. Kosher salt is used to salting meats because it clings well to the surface and easy to distribute. It can be sprinkled on roasted vegetables and can be used in general seasoning at the end of cooking for a pop of texture and flavor.

Sea Salt
This salt is generally coarse, unrefined, irregularly shaped, and can vary in color. It is made by evaporating salt water. As it is minimally processed, it has a more crunchy texture, containing other trace minerals like magnesium, calcium, and copper, giving it a more complex flavor profile. This salt is the more affordable version for salting seafood, meats, and vegetables.

Himalayan pink salt
This salt is the purest form of salt in the world. It is harvested in the Himalayan Mountains of Pakistan having distinct salmon-colored hue and very large irregularly shaped particles. Himalayan pink salt is a good source of minerals like calcium, magnesium, potassium, copper, and iron. This salt has a high heat tolerance since it is dried at 1,200 degrees Fahrenheit. This salt is often used to create electrolyte balance and increase hydration in the body. It has a high mineral flavor with complex notes.

Celtic Sea Salt
Harvested from tidal pools in France, Celtic sea salt is commonly known as grey salt or Sel Gris, in French. This salt is whole raw crystals loaded with minerals like calcium, magnesium, and potassium. It has an alkaline pH that helps in the assimilation of sodium in the body. Celtic salt has a briny mineral taste and a chunky texture and can be used for seasoning meats and fish, pickling, etc.

Flake Sea Salt
Flake sea salt is hand harvested salt and is irregularly shaped having unique large flat, square crystals that are beautiful in appearance. It is low in mineral content. This salt is clean having an intense salt flavor with a soft and crunchy texture. It is used as a finishing salt that adds texture and enhances the flavor of food. It is often used in baking and confectionary for garnishing sweets.

Black and Red Hawaiian Salt
Both black and pink Hawaiian salts are volcanic salts with mythical properties, found in the Pacific islands. Red sea salt may contain natural trace minerals, volcanic clay, and electrolytes giving the earth tone colors. Black lava sea salt contains activated charcoal that is responsible for its dark color. Both the salts have briny flavor having the coarse-grained and chunky textures that add a sophisticated flavor burst. They are used for seasoning vegetables, salads, barbecued meats, fish, and poultry.

For buying quality cooking salt, you need to look out for a trustworthy cooking salt exporter in the market, offering the product at an industry leading price.