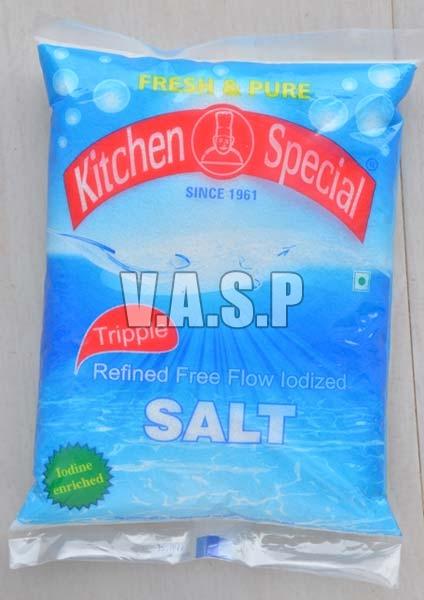 Salt is such an ingredient without which any dish you prepare would seem tasteless. You have it every day with almost all of your food. Even with such an extensive use of Salt, most people are unaware of what Iodized Refined Salt is.

There are a variety of Salts available in the market, but the most commonly used is white and grainy in texture, i.e. the iodized and refined one. Basically its obtained by mixing natural salt with a certain amount of Potassium Iodate. This mixture provides us with the refined and iodized salt that most of us have on our tables.

Benefits of Iodized Salt:
Sodium is essential for the human body in a lot of ways. In Iodized salts, Sodium is present with almost 40% ratio. The Iodized Refined Salt Suppliers ensure that with the presence of Sodium our blood pressure stays in control. Sodium is also essential for the proper functioning of muscles and nerves.
Refined salts also consist of Iodine which is responsible for a lot of health benefits. But it is not found in our regular food items. With the use of refined and iodized salt in our food, we get fewer chances of having Goitre or having developmental disorders. We also get fewer chances of having health disorders like breast cysts or thyroid problems or deafness. In the end, it becomes evident that having iodized salt in the right amount will always benefit your health.

Normal Salt Vs Iodized Salt:
The major difference between the two is the presence of Iodine. Normal salt does not come with Iodine in it. Other than adding seasoning to the dish, salt is also used to pickle or brine different items. If Iodized Salt is used in such processes, the items tend to blacken due to the presence of iodine in it. But with normal salt, such processes are done without harming the colours of the item.
Although with normal salt you wouldn't reduce your health risks that might be caused by iodine deficiency. It is best to use the Iodized Salt for regular seasoning of food, instead of the normal salt. For special purposes where iodine can be a bother, you should feel free to use the normal salt.

Final Words:
Looking at the extensive usage and the array of benefits from Iodized Salt, you should not have any doubts about its benefits. It provides your food with the right amount of seasoning and also helps you maintain your electrolyte levels by providing your body with Sodium. Iodized Refined Salt Suppliers in India have made sure that you get the right amount Iodine required for your body. So diseases caused due to the deficiency of Iodine have lesser chances of attacking you. Although having excessive amounts of any kind of salt is bad for your health. Excessive amounts of Sodium can cause fluctuation of blood pressure and lot of other problems too.

If you are having Iodized Salt with your food in correct portions, then you are not only satisfying your taste buds, but also ensuring better health for yourself.
This entry was posted on November, 19, 2020 at 11 : 40 am and is filed under Salt. You can follow any responses to this entry through the RSS 2.0 feed. You can leave a response from your own site.